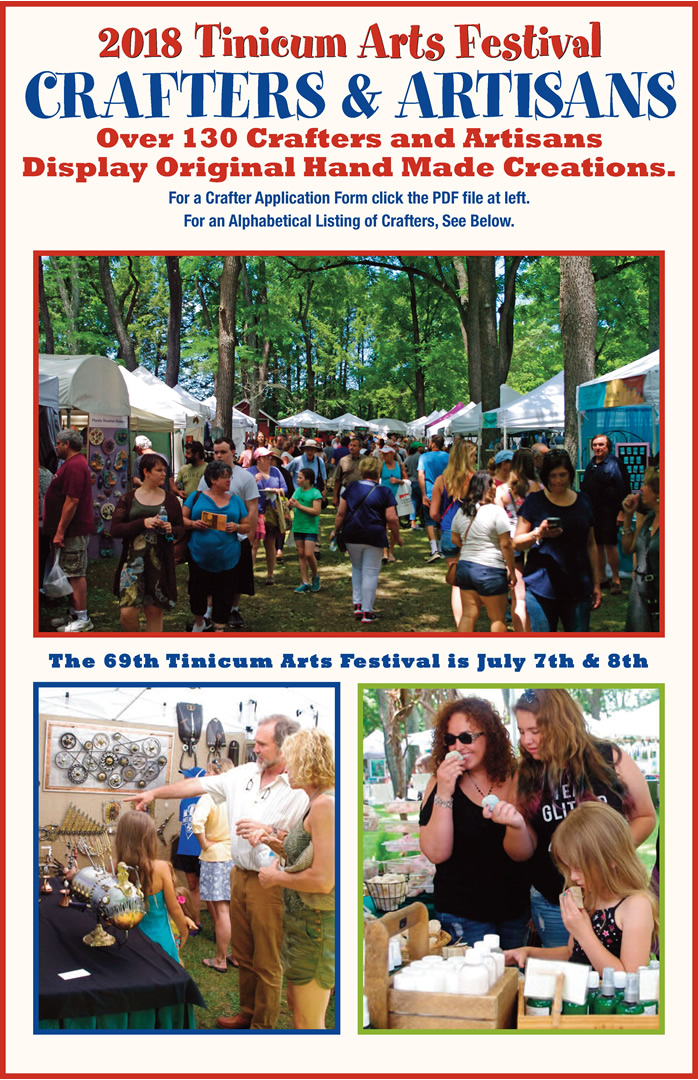 Below please find the list of 2017 Crafter & Artisans.
Tinicum Arts Festival 2017
Crafters and Artisans, listed alphabetically by Company Name or First Name.
Andrea Nicole fine arts & crafts - Mandala Painting Glassware & Ceramics, Mandala Pillows
Artsy Fartsy Designs - Party Pouch-Pocketbook -Jewelry Dream Catchers
Barnyard Moments - Animal & Nature Photography Note Cards, Wood & Metal Prints
Beaded by Sandra - Handmade Jewelry
Bette Conway Fine Jewelry - Modern Celtic & Contemporary Jewelry Designs Wearable Art
Birds of a Feather - Architectural Birdhouses
Black-Eyed-Susan Art - Wearable Fiber Art & Fiber Paintings
Bluestone Gardens - Bluestone Furniture, Game Boards Chess Pieces & Engravings
BPK Photography - Fine Art Photography
Brazilian Designs - Exotic Brazilian Jewelry Designs
Brian's Dots - Pointilling Art
bubbledog - Whimsical Plush Paper Goods & Accessories with Original Artwork
Bucks County Birdhouses - Birdhouses, Feeders, Walking Sticks
Bucks Daughters - Quilts, Home Decor & Gifts
Changewater Designs - Balsam Fir Pillows in Beautiful Fabrics
Chestnut Hill Farm Gourmet Food - Jams, Jellies, Sauces, Pickles
Chestnut Hill Orchard, LLC - Homemade Jam & Jelly
Chris Rogahn - Handblown & Kilnformed Glass
Cindi Sathra - Photography & Art
Clare Marshall ~ Bracelets - Cast & Fabricated, Silver, Gold-Fill, Bronze & Copper Bracelets
Claudia McGill Art LLC - Acrylic Paintings
Conneck-a-pup - Pet Leashes & Collars
Crystal Climbers - Climbing Earrings of Swarovski Crystals/Pearls & Sterling Silver
Crystal Connections - Gem-Comb & Naked Sandals
Dakota Moon - Fine Silver Jewelry Accented with Gemstones & Pearls Nature Inspired
Deborah Tinsman - Pottery & Art
Distinctive Designs - Knit, Crochet, Needlefelt Scarves, & Accessories
Doe Run Studio - Copper & Sterling Cuffs, Pendants, Earrings
Donna Haney - Cartoon Portraits
Douglas Wright, Furnituremaker - Hand-Crafted Contemporary Furniture
Down to Earth Studio - Nature Inspired Ceramics Work
Droplight Industries, LLC - Guitar Amp Key Holders, Desk & Table Lamps
Earthwalk Pottery - Pottery
Ed Lesko - Wood Work
Edenrocks! - Jewelry with Sparkle!
Eye Candy Glass Art - Kiln-Worked & Stained Glass Art & Jewelry
Eynhallow Pottery - Artistic & Functional Ceramic Mugs Bowls Teapots Casseroles
Fairydust Pottery - Wheel-Thrown Stoneware & Wood-Fired Pottery
Fiaschetti Woodworking - Custom Bowls,Vases, Cuttingboards & Art Pieces
Fine Art & Custom Military Apparel - USA Embroidered Shirts & Hats Custom
Finely Crafted - Embroidered Tea Towels, Wallets & Pouches
Frank & Son's Stuff - Leather Bags & Wood Duck Decoys Necklaces Fossils
GeoGraphics - Topo Maps & Towns on Placemats & T-Shirts
Glass Recreations - Repurposed Glass for Home & Garden
Gratkowski Original Art LLC - Original Pastel Paintings
Gregory Benjamin - Purveyor of Award-Winning Preserves & Marmalades
Hannah B. Jewelry - Handmade Jewelry
Henry Jucewicz - Handcrafted Iron & Birdhouses
Inspire Light Candles - Hand Poured Soy Candles
Jan Ciganick - Watercolors-Homes & HIstoric Buildings
Jess Polk Studio - Whimsical Oil Paintings, Prints & Hand Bound Books
Jewel's Attic Shoppe - One of a Kind Jewelry Boxes from Salvaged Items
jnelsonart - Hand Forged Silver Jewelry
Joanna Krasnansky - Paintings
joeyfivecents-Susan Forker - Storied Jewelry & Accessories
Jonetta Williams - Animal & People Portraits & Scenery
Joy Barnes - Bright & Cheerful Landscapes, Seascapes Florals
Karen Somers & Sharleen Way Twisted Twig - Hand-Painted Gourd Bird Houses
Kathleen Hooper-Milositz - Underglaze Decorated Porcelain in Nature Themes
Kisatchie Studio - Nature Inspired Functional Art in Fused Glass
Little b Natural Organics - Beautiful Unique Children's Clothing Without Dyes & Chemicals
Little Gypsy Bones - Sterling Silver & Bone Jewelry, Illustrations & Notecards
Little White Dog Pottery - Handmade Porcelain & Stoneware Pottery & Sculpture
Louise Devery - Earwrap Earrings
Lynn Ebeling - Handmade Baskets
Maggie Ellis - Beaded & Button Jewelry
Maitri Jewelry - Handwoven Unique & Contemporary Beaded Jewelry
Margarete Naperski - Hand Crafted Gifts Pottery & Decoupage
Marianart - Art & Craft Created with Wood, Leaves, Flowers & Acrylic Paint
Marie's Soap Company - Handmade Soaps & Skin Products
Marj Epp - Cat Slings, Pet Beds, Cat Toys
Marsha Dowshen Pottery - Functional Decorative Pottery & Tiles
Mary-Lynne Moffatt Art - Contemporary American Folk Art
Mercedes Rochelle Author - Author of Historical Fiction
Michael Sandy Photography - Fine Art Photography
Nature's Design - Bonsai,Pond Plants, Ferns Carnivorous
Neptune's Confetti-Worn Elements - Wire Wrapped Natural Jewelry
OddGirl Enterprises - Glass Bottle Art-Lanterns, Vases, Night-Lights, Sun Catchers & Jewelry
Offbeat Gourmet - Gourmet Condiments
Old Tyme Design - Fused & Blown Glass
Pat Dell'oso - Doll Clothes
Paula Focazio Art and Design - Unique Ceramics & Henna Artwork
Photography By Pamela - Colorful Photographs on Canvas
Pixie And Thistle - Handmade Scandinavian Tomte (Gnomes) & Home Decor
Pleasant Valley Promotions - Kids Activities, Face Painting, Hair Wrapping, Temp Tattoos, Sand Art
Pyrolithic Creations - Pottery & Jewelry
Rachael Calderin @ Burning Branch Studios - Hand Blown Aesthetically Pleasing Functional Glassware
Rachael Hoffman - Illustration
Ramona Maziarz Pen and Ink Artist - Pen & Ink Art
Recycled Pins and Glass By Ava and Stu - Recycled Pins & Glass
Reflections By Ruth Photography - Photography of Bucks County & East Coast on Art Paper & Canvas
Relaxpak - Cooling Paks plus Hot/Cold Paks
Richard Noll - Pottery
Robert Shaler - Handcrafted Unique & Colorful Polymer Clay & Glass Jewelry
Robin Nidelcheff - Fossilized Leaf Impression Pottery
Sal Galluppi - Welded Metal Sculptures
Salvage Arts - Folk Art Made from Reclaimed Wood & Old Hardware
Samunaye - Skin Care & Bath Products
Sardine Clothing Co. - Upcycled Clothing for Every Body
Scott White - Bonsai Trees, Starter Trees & Supplies
Sew Special by Carol - Clothing, Gifts, Embroidery-Hand-painted Wineglasses
Sharon L. Reuss S.L.R. Stained Glass Studio - Custom Designed Windows & Gifts
Shirley Sews - Dog Bandanas E-Reader Covers
Snugpups - Handmade Coats for All Sizes of Dogs!
Spiff it up! & The Adorable Baby Boutique - Hand Knitted Scarves Hand Crocheted Hats, Blankets, Bow Holders,
Stained Glass Creations - Panels, Stars, Mirrors, Embossed Glass
Sunflower Glass Studio - Fused & Stained Glass Botanical Renderings
Susan Hohman Fine Art - Mixed Media Art
T.J.'s Acorn - Natural Handmade Soap & Body Products
The Jersey Jerry Broomsquire - Handcrafted Brooms
The Wooden Laboratory - Experiments in Wood & More! Now with Pianos
Thomas Kosa Photography - Unique Photographic Images Crafted From Smoke
Tohickon Garden Club - Plants, Hypertufa Containers
Twigcrafts, LLC - Decorative Art Tiles/Ornaments
Two Old Crafters - Gourd Birdhouses & Wooden Novelties
Unique Birdhouses - Handmade Unique Birdhouses from Natural Wood "Made In US"
Victoria Woodcraft - Wood-freeform Jewelry Boxes & Clocks, Wood Turnings
Wellington Metal & Gem - Hand Forged Jewelry
Whisker Biscuits - 100% USA Sourced Handmade Dog Treats
Whispering Hill Studio - Handmade Ceramic Tile
Wild Heart Pottery & Tile - Handmade Ceramic Art, Wheelthrown Porcelain, Mosaics & Tile
Yanina Siani - Artisan Jewelry